Branding Consultant . Commercial Photographer .

Communication Manager .

Creative Director .

Digital Marketer . Entrepreneur .

Graphic Designer .

Public Relations Professional . Social Media Maven . 

Web Design, Interface, Architecture Development, Accessibility and Usability Expert 
Just so you know, I was married in 2016 becoming Kathy De Lauro. Former last names were Morse, Guereux and Greco. However...I am still me.
Thank you for checking out my portfolio. It is a compilation of experience, technique and humor. OK, so I just threw the humor in... Seriously, I have enjoyed the opportunities I have had working in diverse fields. I love people, and service. Love making others look and feel good about themselves and their work.

There are a few projects that I am particularly proud of. One is my development of a Volunteer Council model which was created to bridge a gap in community relations between a large company and the local area charities. Employees had an opportunity to volunteer in areas that interested them, while with minimal support, the company was able to achieve recognition. Another project was to create a communication line between local employers and students/alumni looking for jobs. A simple form opened a flood-gate of opportunity. Taking a step back and listening, asking questions and getting feedback are vital to the success of any endeavor.
Currently: Reseller Specialist for Apple

I maintain the Apple Shop in the Ocala, Florida Best Buy. I work with people to find their next great Apple product to fall in love with.
Recent work:
College of Central Florida Website Refresh; Marketing Department Web Redesign Project Manager for Accessibility and Mobile Responsiveness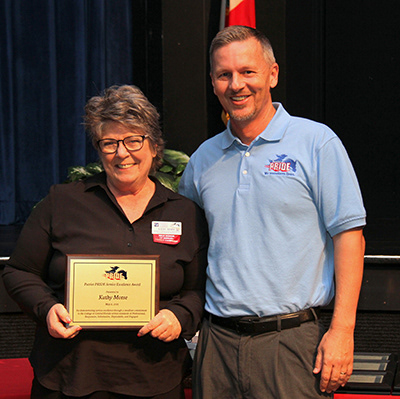 Dr. Vernon Lawter presenting me the College of Central Florida Patriot Pride Service Excellence award.
And below, an older video overview produced by Roy Zachary. It will give you a brief overview of my experience and project scope.